Lemon Dill Salmon with Zucchini and Yellow Squash en Papillote (cooked in parchment)
By: Marla Tenney Wednesday April 1, 2020 comments
Sheet pan meals are quick, easy, and don't make a mess in the kitchen. You can substitute with the veggies you have on hand and make a beautiful meal for the entire family!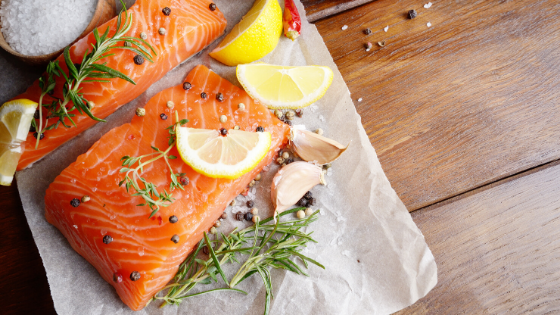 12 oz wild caught salmon (2 filets)
½ zucchini, sliced into ¼ inch pieces
½ summer squash, sliced into ¼ inch pieces
3 Tbsp avocado oil
½ lemon, thinly sliced
1 clove of garlic, minced
1 sprig of thyme (optional)
1 bunch of dill (optional)
Salt and pepper to taste
Preheat oven to 400 F and place two large squares of Parchment Paper on the counter. Cut parchment paper into two large heart shapes horizontally.
Add about the thin slices of zucchini to the center of one side of the heart in an even flat layer, arranged in two vertical columns that mimics the shape of the salmon.
Top the zucchini with thin slices yellow squash.
Add one salmon filet to each packet with the skin-side down so that it covers the vegetables as much as possible.
Top salmon with avocado oil, minced garlic, salt and pepper and then top salmon with 3 thin slices of lemon.
Add a small amount of dill and thyme on either side of the salmon filets.
Seal up the parchment packets by folding the edges into each other and crimping tightly as you go. You want them tightly sealed so neither the cooking juices nor steam escapes. Place them on the baking sheet and bake for about 15 to 20 minutes or until salmon is tender and cooked through and vegetables are crisp-tender.