By: Marla Tenney Monday December 23, 2019 comments
Kichari (sometimes spelled kichadi) is an ancient Indian dish that is considered one of the most healing foods in Ayurvedic tradition. It is essentially a combination of rice, lentils, mung beans, healing spices and vegetables.
The grains and legumes are soaked and cooked down so well that it is extremely easy on the digestive system, is cleansing and grounding for the entire body, not to mention it makes up a complete protein meal AND is a one pot wonder!
Kitchari is chock full of detoxing spices such as ginger, cumin, coriander, fennel and sea salt, which help to fire up the belly and provide electrolytes to the body. The mung beans in particular also help with removing toxic buildup from the intestinal lining. Add in any assortment of cooked vegetables and you have yourself a fibrous, mineral- dense, detoxifying meal. This dish is commonly used as a 3-7 day cleanse or "mono-cleanse" to help give the digestive system a break and let the body heal on its own, but it can also be used as a simple, tasty family meal.
KITCHARI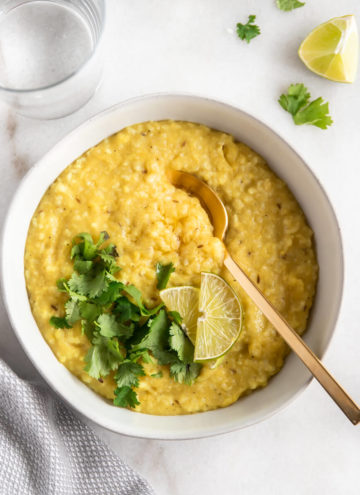 (Image taken from realandvibrant.com https://realandvibrant.com/healing-ayurvedic-kitchari/. )
Serves 6-8
Ingredients:
1 Tbsp. coconut oil or ghee
½ Tbsp. cumin seeds
½ Tbsp. mustard seeds
½ Tbsp. coriander seeds
½ Tbsp. fennel seeds
½ tsp. ground turmeric
1 cinnamon stick
1-2 Tbsp. minced ginger (to taste)
2 medium yellow onion, diced
2 medium carrots, chopped
1 small sweet potato (or other seasonal root veggie), chopped
1 cup brown rice
½ cup mung beans or brown lentils (or a combination of both)
1 tsp. fine grain sea salt
1 cup green peas, frozen or fresh
4 cups / 1L water (or more, as needed)
a couple handfuls finely chopped cilantro
Directions:
Soak the rice and legumes together overnight, or for 8-12 hours. Drain and rinse very well.
Melt the coconut oil in a large stockpot. Add in the cumin and mustard seeds and stir just until the mustard seeds start to pop. Add the remaining spices, stir and then add the ginger and fry for a couple minutes until fragrant.
Add the onion, carrots, sweet potato, brown rice, mung beans, salt, and water. Bring to a boil, reduce to simmer and cook for about 45 minutes, until the rice and beans are soft. About five minutes before serving, add the peas whether fresh or frozen (or whichever vegetables you decide), and cook until they are warm. Add more water for a stew-y consistency, or if the pot becomes dry while cooking.
Serve kitchari hot. Option to garnish with cilantro and a squeeze of lemon juice.