Thai Butternut Squash Lentil Soup with Garlic, Onion, Turmeric, Broth, Ginger, & Carrots
Thursday August 22, 2019 comments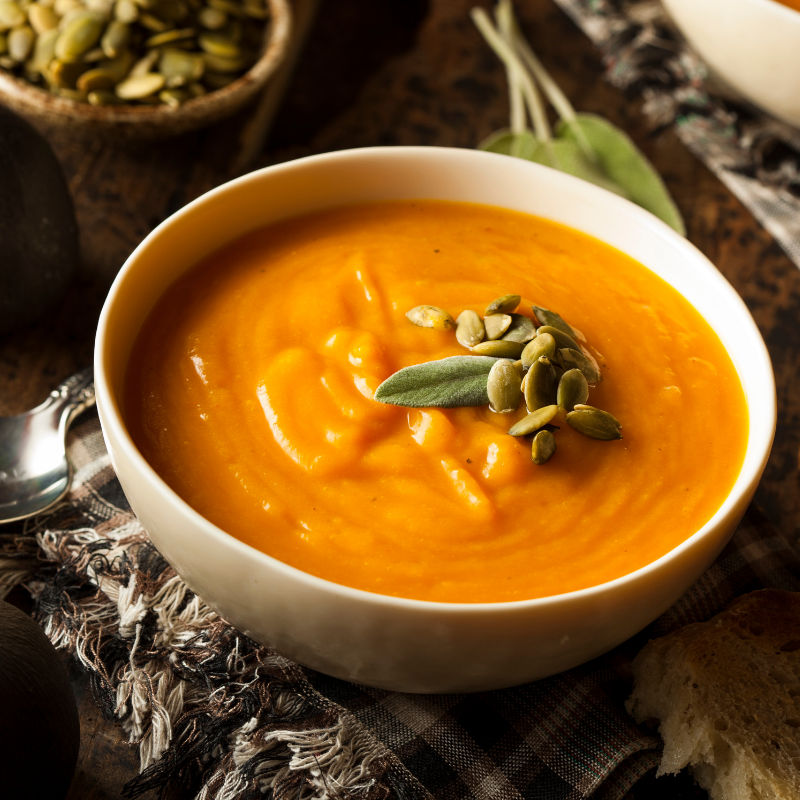 Serves 4
INGREDIENTS:
1 tbsp coconut oil
4 cloves garlic, minced
1 tablespoon freshly grated ginger
1 yellow onion, diced
1 large carrot, thinly sliced or diced
1 medium butternut squash, peeled and cubed
1 tablespoon yellow curry powder
1 tablespoon freshly grated turmeric (or 1 teaspoon ground turmeric)
1 can coconut milk
3 cups organic broth
1 cup green or brown lentils, rinsed and sorted
2 tablespoons all natural creamy peanut butter, cashew butter or almond butter
¾ teaspoon salt, plus more to taste
Freshly ground black pepper
INSTRUCTIONS:
Heat coconut oil in a large pot to medium- high heat and add in the onion, garlic and ginger. Saute for 5 minutes.
Add in squash and carrot and saute for 3 more minutes.
Add in curry powder and turmeric and let sit for 2 minutes.
Stir in coconut milk, broth, lentils and your nut butter of choice.
Season with a dash of salt and pepper and bring the soup to a boil.
Once it reaches a boil, turn down heat to a simmer for 25 minutes.
In a blender, add ½ of the soup and blend until smooth. Add the blended soup back into the original soup and stir.
Feel free to add a dash of lime, hot sauce or cilantro in at the end for extra flavor!
What makes this soup so immune boosting?
Tumeric's active ingredient, called curcumin is a powerful antioxidant that give it the orange, golden color. It's also anti- inflammatory, anti-viral, anti- fungal and helps to fight free radicals in your body that damage your healthy cells. Black pepper, another ingredient in this recipe, can help the body absorb the benefits of tumeric!
Ginger: Ginger is another major anti-inflammatory ingredient. It's main constituent, gingerol,has properties similar to conventional pain medications, making it a great remedy for aches, pains or the flu. Not to mention it's also a great remedy for nausea as well.
Garlic contains a substance called allicin, which is a strong immune- enhancing compound. It has been used for its anti-viral and antifungal effects for centuries, and in large amounts can fight off the cold and flu. It can even work to balance blood sugar levels as well.
Broth, particularly homemade bone broth has a plethora of health benefits that specifically target the immune system. It contains collagen, glycine, glutamine and minerals that the body can easily absorb and work to restore gut health, and therefore the immune system. Collagen/ gelatin in particular help seal the openings of the gut lining and support its integrity.
Lentils: "The fibre content acts as a prebiotic that helps to improve gut health and maintains a healthy microflora environment. This makes the body more efficient at processing waste whilst maximising the nutritional content of the food ingested. Extremely rich in immune boosting minerals, lentils provide a healthy dose of zinc, folate, copper, manganese, magnesium and selenium."
Lentils are very high in dietary fiber, which acts as a prebiotic to your gut. This helps create a healthy microflora environment and makes the body more efficient at getting rid of waste and toxins. They provide a healthy dose of zinc, folate, copper, manganese, magnesium and selenium.
Onions contain a ton of immune- boosting nutrients: selenium, vitamin C, sulfur compounds, and zinc. They are also a great source of quercetin, which is an antioxidant with antiviral and histamine regulating effects.
Carrots contain high amounts of beta carotene, a phytonutrient that boosts the immune system and it's infection- fighting cells that help kill disease- ridden bacteria.
Coconut Oil is a medium- chain fatty acid that is anti- fungal, antiviral and antibacterial. It contains lauric acid, which enhances immunity and is also shown to help improve white blood cell counts, which helps the body fight virus'.