Garlic Miso Zucchini Noodles
By: Marla Tenney Friday September 13, 2019 comments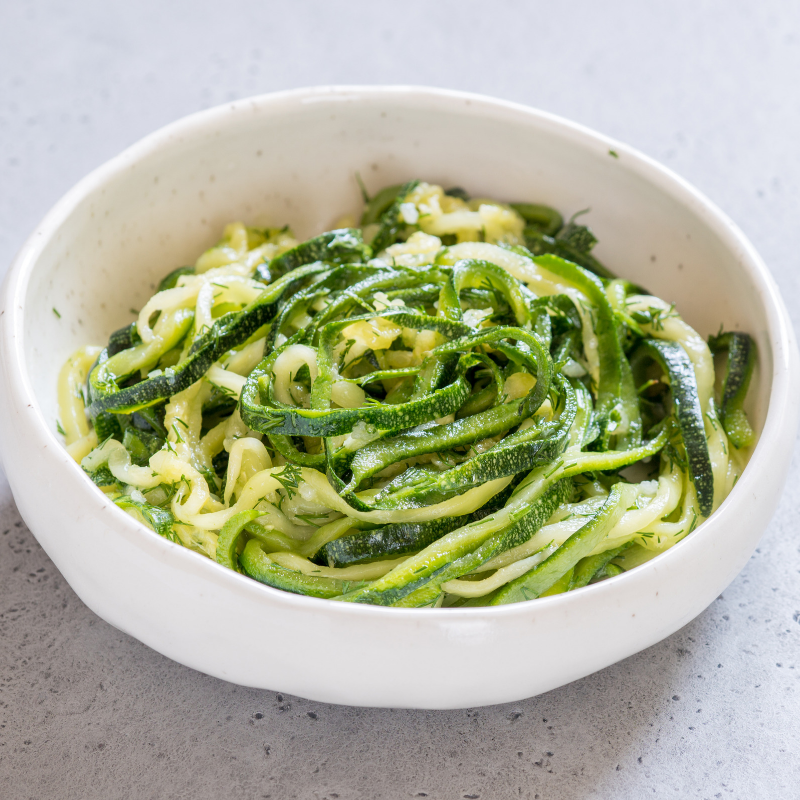 Serves 1

INGREDIENTS:

Veggies:
1 tsp coconut oil
3 cloves garlic, minced
1 bell pepper, julienned
1 carrot, spiralized
2 handfuls of baby spinach
2 large zucchini squashes, spiralized
3 sprigs of green onions, diced
1 tbsp sesame seeds
Miso Sauce:
1 ¼ cup of vegetable or bone broth
2 tbsp white miso paste
1 clove of garlic, minced
1 tsp of ginger root, grated (or powdered)
1 tbsp sesame oil
1 tbsp apple cider vinegar
1 tbsp coconut aminos
½ tsp maple syrup
Instructions:
Chop, mince, dice and spiralize vegetables. If you don't have a spiralizer, you can use a standard potato peeler to peel the vegetables into thin strips.
Add all sauce ingredients to a blender or food processor, and combine until smooth. Set aside.
Heat 2 tsp of coconut oil in a skillet to medium- high heat. Add in garlic and stir for 1-2 minutes.
Once fragrant, add in ginger, peppers and carrots and stir for another 4 minutes.
Wait for carrots and peppers to become tender and then add in spinach and cook until wilted.
Once spinach has slightly wilted, add in the zucchini noodles, green onions, and sauce.
Stir to combine all ingredients for 2-3 minutes. Top with sesame seeds and serve!

Note: This recipe can 100% be eaten as a cold and raw dish if preferred. Just mix the garlic, ginger and coconut oil.
This miso vegetable dish is highly anti- inflammatory and healing to the gut. The star ingredient is miso, which is a paste that originated in Japan and is made from fermented soybeans. Why this is different than other legume- based foods is because miso has undergone a fermentation process, giving it hundreds of beneficial probiotics that supercharge your immune system and fight inflammation. Miso paste can be found in most grocery stores. It is typically located in the vegan aisle (refrigerated section) that also contains other fermented goods such as sauerkraut.
Miso contains large amounts of antioxidants, isoflavanoids, protective fatty acids, and is a great source of iron, calcium, potassium, and B vitamins. The good bacteria in miso synthesizes vitamin B12, which is particularly difficult to get in vegetarian or vegan diets.
What else makes this dish anti- inflammatory:
Garlic: Garlic contains anti- inflammatory compounds that limit the effects of pro- inflammatory cytokines, making it a great anti- inflammatory addition to any meal.
Ginger: Ginger is famous for its anti-inflammatory properties and has been shown to be effective for muscle and joint pain, as well as osteroarthritis.
Spinach: Dark leafy greens such as spinach contain vitamin E, which helps protect the body against pro-inflammatory cytokines. They also contain high concentrations of nutrients such as calcium and iron.
Zucchini: Zucchini contains several anti-oxidants and anti- inflammatory compounds (vitamin A and C, glutathione, etc.). Eating zucchini regularly has been shown to reduce oxidation and inflammation in the body.
Bell Pepper: Colorful vegetables such as bell peppers contain high amounts of anti-oxidants and have lower levels of blood- sugar spiking starch. For those than can tolerate night- shade vegetables, bell peppers pack a punch of anti-inflammatory properties.
Vegetable Broth: Simmering vegetables into a broth releases huge amounts of essential minerals that not only help hydrate and mineralize our bodies, but it has great gut- healing effects, which essentially lowers inflammation in the body.