Cauliflower Mash Shepherd's Pie
By: Marla Tenney Monday January 27, 2020 comments
Comfort foods are a part of our culture, family traditions, and our overall well-being. There is an actual psychology behind comfort foods. Studies have found that feelings associated with certain foods can boost your mood and decrease feelings of loneliness and depression. The good news is that with most recipes nowadays, there is almost always a cleaner and more "healified" version that you can find or create yourself that won't wreak havoc on your body's digestive system, while still allowing you to get that some psychological boost.
This Shepherd's pie is a great example of a comfort food that can easily be transformed into a nutritious, fibrous and protein packed meal. A traditional Shepherd's pie is topped with white mashed potatoes. This recipe called for cauliflower, although other great healthy options would be a sweet potato or root vegetable mash. You can also play around with the type of meat (or discard the meat), and throw in or swap out almost any vegetable you'd like.
Cauliflower Mash Shepherd's Pie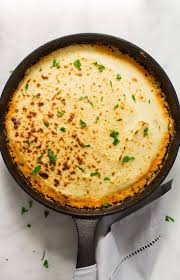 (image taken from primaverakitchen.com)
(serves 4)
FOR THE CAULIFLOWER:
1 large head cauliflower — cut up into florets
2 tablespoon olive or avocado oil
2 cloves crushed garlic
Sea salt and pepper
FOR THE FILLING:
½ tablespoon olive or avocado oil
½ onion — chopped
3 carrots — chopped
4 oz baby mushrooms- chopped
1 stalk celery- chopped
1 small zucchini- chopped
¼ teaspoon pepper
3 cloves garlic — finely chopped
1 pound ground turkey
2 cups chicken broth
½ cup peas
1 teaspoon thyme
Sea salt to taste
Instructions
Preheat oven to 350.
In a big pot, bring water to a boil and add cauliflower.
Boil for about 25 minutes, until cauliflower is very tender.
Drain cauliflower in a colander and place in a food processor, add 1 tbsp of olive or avocado oil and garlic and blend until smooth.
Season to taste with salt and pepper.
In a large skillet, heat olive or avocado oil over medium-high and sauté onions for 2-3 minutes, until translucent.
Add carrots, celery, mushrooms, salt, and pepper and cook until softened.
Add in the garlic and zucchini and cook for one minute.
Add the ground turkey and use a wooden spoon to break up into chunks and cook until it is not pink anymore.
Pour in the ½ of the chicken broth and bring the mixture to a simmer, stirring occasionally for 10 minutes.
Add peas and thyme and stir well to combine.
Whisk together remaining chicken broth and coconut flour, then add to the pot and stir occasionally.
Once the mixture has thickened, taste and adjust the seasoning if needed.
Spread the mashed cauliflower over the turkey mixture and bake in the oven for about 30 minutes or until the edges of the mashed cauliflower are browned.